Arca Studios Launch New Web Design Packages
Over the past few years here at Arca Studios we have continued to build on our reputation of providing high quality mobile responsive websites and web applications to businesses here in Glasgow, Scotland and throughout the rest of the UK. One of the most frequent comments we get from potential clients is "professional looking websites are expensive". I'm not going to sit here and say there is not any weight to that comment, as some websites can cost alot of money to design and develop, but not all businesses are equal, and as such not every business needs to spend the same on getting themselves a high quality online presence.

With so many digital design agencies, freelancers and DIY website software its impossible for the small business start-up or even the large corporations to know what is the correct solution for their business and of course "How much will this cost?".

One of the most overlooked factors when a client is looking to have a website created is what they are expecting the website to do for their business. For example, if the client are new in a highly competitive business market and rely on online traffic for sales then simply just creating a visually stunning website is not enough. They are going to need a unique high quality website created for sure, but also have their website optimised to get ranked as high as possible in the search engines such as Google. Possibly some digital marketing, maybe Google Adwords and social media advertising to increase their brand awareness. As you can see this is where costs start to mount up to potentially alot of money for a new business who hasn't even made a sale yet.

On the other end of the spectrum you have clients who offer products or services which most of their sales is garnered from local repeat customers and word of mouth, who simply need a high quality website as a calling card or a place customers can go to see they are a professional legitimate business. You can see in both these examples how the costs to develop a website can vary quite dramatically all based on what you want to get out of a website.

Here at Arca Studios we have created a new set of web design packages to try and help businesses with these issues. Our packages are designed to suit any type of business, and are scalable as your business and requirements grow. To make things simple we offer 3 packages. Starter, Essentials, and Enterprise, click here to see an overview on what is included in our packages. Our Starter package is £1500, and is an ideal spring board for any small business or start-up looking for a high quality website to showcase their products & services. All websites we design here at Arca Studios are fully bespoke and come with a content management system tailored to your requirements.

Below is a recent example of work we completed for a small local business here in Cumbernauld looking for a high-quality website. Poetic Substance, a local poet in Cumbernauld was looking for a way to offer his unique writing services and took advantage of our Starter package offer which suited his budget and ticked all their requirements.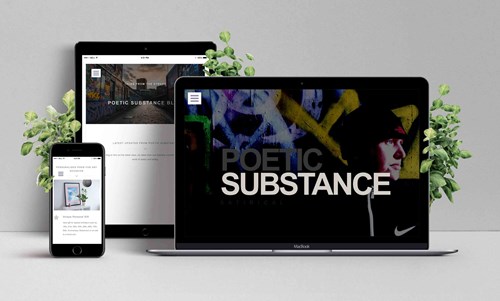 As you can see even small businesses can have a professional web presence without breaking the bank. Get in touch today with Arca Studios for a free 1hr consultation to see how we can help you.